We take care for your vehicle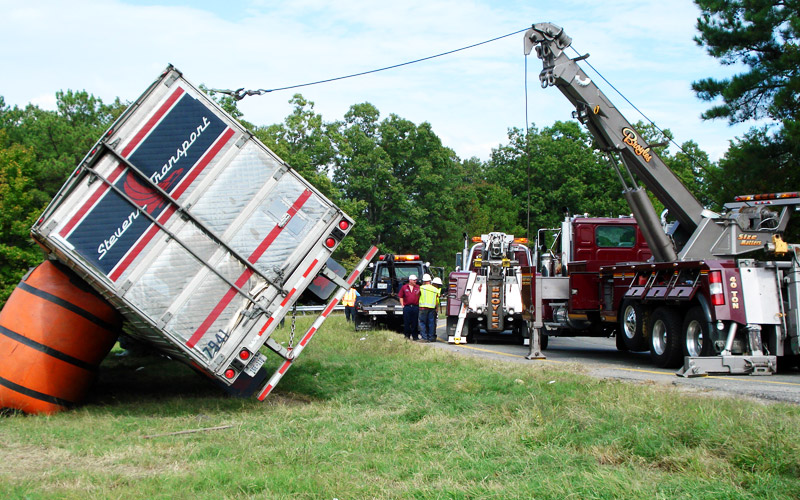 When it comes to the hauling and recovery of big, heavy duty vehicles and equipment, it is best to call Broyles Auto and Wrecker Services. We have the right tools and experience to complete nearly any job. From 18 wheelers to airplanes, we can recover almost anything.
Professionalism is a word that is defined as the conduct, aims, or qualities that characterize a profession or a professional person. This word dates back to 1856 and has been implemented from day one here at Broyles Auto & Wrecker Service, Inc. We don't just strive to provide professional and courteous service; we actually set the bar for it here in the Richmond area and throughout the state of Virginia.
Broyles Auto & Wrecker Service Inc. was established in 1977, by its principle owners Phil and Georgia Broyles. Through the years, Broyles has grown into one of the premier towing and recovery operations in the state. By offering towing service, equipment transport and vehicle recovery we have tailored our family business to serve you 24 hours a day 365 days a year. We offer many towing and recovery accessories in our 900 square foot showroom that are available to towers and to the general public. We also have an eight bay repair facility which can tackle most of your automotive/light truck maintenance and service needs. All of our mechanics are trained and certified through ASE and work hard to uphold our high standards of doing the job right, the first time. Broyles Auto and Wrecker Service can also repair and service almost every brand of tow truck and wrecker.
You will not find a business more dedicated to the safety of our roadways and more importantly the safety of our customers. Our staff is well trained to help solve your problem in an efficient and cost-effective manner.
As neighbors in the area, we do not participate in repossession jobs and prefer to focus on prefer to help people with non-emergency transport and roadside emergency service anywhere in Central Virginia. Please don't hesitate to call Broyles Auto & Wrecker Service at (804) 266-4931 for all of your towing and recovery needs.